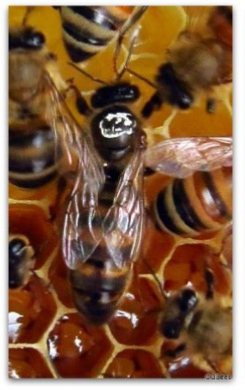 We started with locally-raised hygienic Italian queens, but over the past several years of open-mating in our Northern Virginia apiary many have emerged as darker bees, some even all black. That could be from some feral or Carniolan influence, but "local mutts" is about as accurate as we can be now. They are gentle, easy to work, good honey producers, and overwinter well in our climate with minimal intervention. Organic varroa mite treatments are applied when needed. 
All queen sales are for local pick up by appointment only at our apiary approximately two miles south of the Loudoun/Prince William county line off of Route 15. 
Email CGBees@gmail.com for further information & pricing.